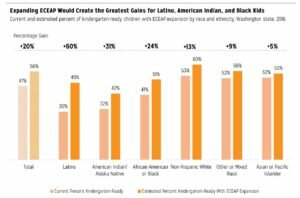 KIDS COUNT in Washington examined how expanding ECEAP to serve 23,000 unserved Washington children could impact readiness for kindergarten. Our analysis concluded that:
Kindergarten readiness in Washington overall could increase by 20 percent (to 56 percent from 47 percent);
7,900 more children could be ready for kindergarten on all six indicators for readiness (see sidebar on the left for more details) by the end of their year in ECEAP; and
The share of Latino, American Indian, and Black children ready for kindergarten could have the largest increases.
While children would benefit across all race and ethnic groups, an ECEAP expansion could especially help many children of color who haven't had equal access to opportunities that promote kindergarten readiness.
Research Brief: The Early Childhood Education and Assistance Program (ECEAP)